31 december
The Biggest New Year's Eve in Rome | 10 Parties in One
On December 31st, Cinecittà World, the Cinema and TV Theme Park in Rome, hosts the biggest and most fun New Year's Eve party in Italy, from 6 pm until 6 in the morning: 40 Attractions, 8 themed dinners and show dinners, Nightclubs and DJ Sets, Live Shows, Live Concerts, renowned artists, and guest stars.
Choose your New Year's Eve Dinner among: Standing Cine-Dinner, Self-service Dinner at Ristorante Roma, Dinner at the Saloon, and Served Dinner at the Charleston Club. Buy your dinner now: spots are limited! Alternatively, you can dine at the bars and food spots within the Park.

BUY YOUR TICKET NOW FOR €40 BUY YOUR HOTEL FOR NEW YEAR'S EVE FROM €49
1. New Year's Eve at Cinecittà World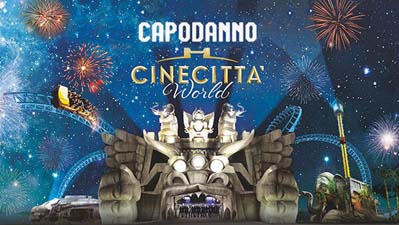 Cinecittà World is the ideal New Year's Eve for families, young people, and children: 40 Attractions, including 17 indoor attractions, 30 attractions suitable for the little ones, including Giocarena, the large indoor Playground, The Kingdom of Ice and the Ice Skating Show Christmas On Ice, the fireworks show at midnight, 6 live shows in the Park, 4 Nightclubs (Commercial, Revival, Latin-American, and Tech-house). All included in the €40 ticket. Buy your ticket here

2. New Year's Eve with Achille Lauro*
Come to the live concert by Achille Lauro. Singer-songwriter and transgressive character, protagonist of recent Sanremo Festivals, accompanied by his band, will perform explosive hits such as: Rolls-Royce, Fragole, and the new single Stupidi ragazzi, in a breathtaking performance with special effects and light games. Buy here the Park + Achille Lauro ticket.


3. New Year's Eve with Guè Pequeno*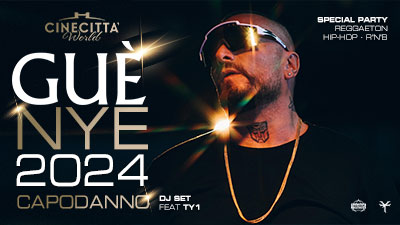 At Cinecittà World's New Year's Eve, the Special reggaeton, hip-hop, R'n'B party arrives, with special guest Guè Pequeno and his live DJ set. Buy here the Park + Guè Pequeno ticket
4. 90s New Year's Eve*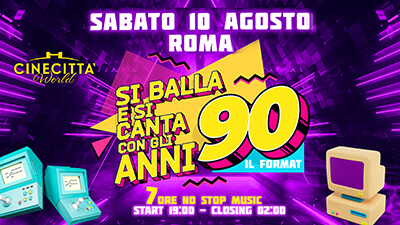 For lovers of the '90s, The Time Machine of the 90s-2000 arrives, the party that will make everyone dance to the unforgettable rhythm of "Rhythm of the Night". Special guests of the night: Corona, Ice MC, and Gigi L'Altro. A journey through time with unforgettable dance music hits from the golden years. Buy the Park + The Time Machine ticket here.

5. Snowy New Year's Eve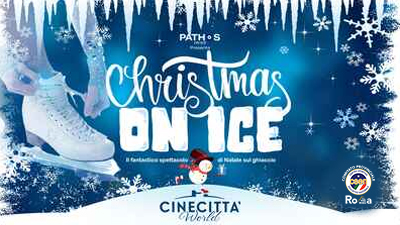 Enjoy the famous ice skating show Christmas on Ice: starting at 6 PM, an hourly show with over 50 performers and internationally and Olympic level skaters! After midnight, skate like a true athlete in Italy's largest ice skating rink. Included in the €40 ticket. Buy your ticket here
6. Latin American New Year's Eve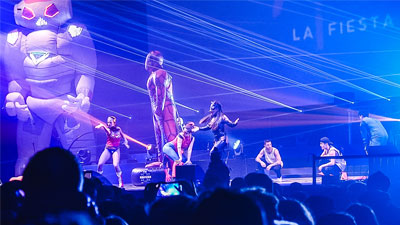 Latin Fiesta: let yourself be carried away by Latin American rhythms, reggaeton, salsa, and bachata, and join in couple dances and group dances with instructors, entertainment, and live dancers on the hottest stage of New Year's Eve. Included in the €40 ticket. Buy your ticket here
7. Fandom Night*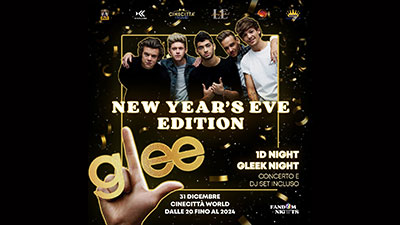 The most famous themed night for fans in Italy.
One Direction Night: an exclusive evening to relive the music of One Direction by singing and dancing to their greatest hits. Glee Night: a themed party inspired by the award-winning American TV series. Buy the Park + Fandom Night ticket here.
8. Revival New Year's Eve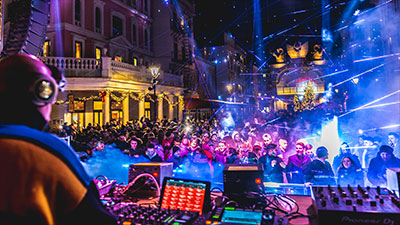 For those who love to celebrate New Year's Eve in the square, welcome the midnight with fireworks, toast to the new year with friends under the stars, and sing the greatest hits from the '60s to today, there's the Revival New Year's Eve at Cinecittà Street, the magnificent Main Street of the Park suitable for everyone, with DJs, Karaoke, and entertainment. Included in the €40 ticket. Buy your ticket here
9. New Year's Eve with Pago*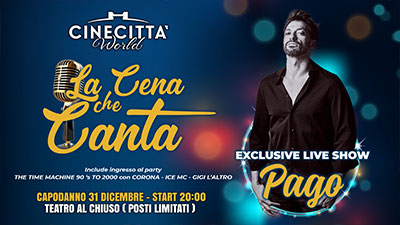 Pago, a singer and TV personality, star of shows like Grande Fratello VIP, Temptation Island VIP, and talents like Tale e Quale show, will perform a one-man live show of 2 hours with a guitar featuring great Italian hits making everyone present sing along. Buy your Park + Dinner with Pago ticket here Note: includes access to the 90s Party (with Corona and ICE MC).
10. Tech House New Year's Eve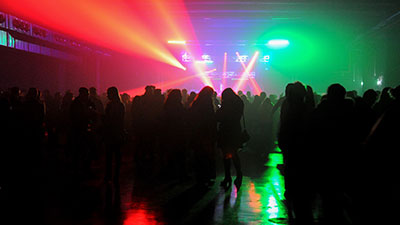 For lovers of Techno and House music, here comes the Undermoon evening: a marathon with DJs like Nic Fanciulli, Sasha Carassi, Ethan Heich. Buy the Park + Dance! by Nic Fanciulli here

*Special tickets event

New Year's Eve Dinners in Rome
USEFUL INFORMATION
DINNERS AND FEASTS: Dinners include Park admission and the indicated menu. Feasts also include the midnight toast. Arrive at least 30 minutes before the chosen time slot: table assignment will be based on arrival order. After 30 minutes from the start of the slot, the table is no longer guaranteed and may be reassigned. All tables must be vacated by the end of the chosen time slot. For celiacs and vegetarians, it's possible to modify the menu by purchasing, together with the dinner, the "Gluten Free Supplement" and/or "Vegetarian Supplement" at the cost of €15. The dinner at Ristorante Roma is self-service. In dinners with convivial tables, guests will be grouped until the table is fully occupied. If you need a high chair, you can purchase it here. If you want to ensure sitting with your friends or family, ensure a single purchase is made for the entire group.
IF YOU WISH TO STAY OVERNIGHT: Purchase the New Year's Eve Hotel Package at our partnered hotels. Park access and dinners are NOT included in the hotel package, so it's necessary to purchase an entry ticket or a Park + Dinner package.
IF YOU'RE DRIVING: Purchase your parking here, after selecting the Ticket type. The parking lot will be open until spaces are filled and guaranteed for online purchases until 8:00 PM.
IF YOU DON'T WANT TO DRIVE: The park provides a shuttle service to/from Rome from 5:00 PM to 6:00 AM with departures and arrivals from Termini and Metro B EUR Palasport.
CHILDREN: The rates indicated apply to children above 1 meter. For children under 1 meter, only Park entry and Park + Hotel packages are free. Using a seat at the restaurant requires purchasing a dinner. Children in strollers or Park high chairs are exempt until exhausted.
ATTRACTIONS: Attractions are open and guaranteed until 2:00 AM. They will continue until 6:00 AM based on audience presence.
CLOAKROOM: A supervised Cloakroom service is available in the Park for purchase online.
NOTES: It's not possible to exit and re-enter the Park with the same ticket (a new ticket purchase is necessary to re-enter). On New Year's Eve, there will be no free services for the disabled and/or any promotions of any kind.