31 december
The New Year's Party in Rome! 8 Themed Dinners, 40 Attractions, 7 Discos, 8 Live shows, a children's party in the snow, Surprise concert with guest music stars.

An Amusement Village of over 30 hectares, open from 6pm to 6am, for 12 hours of celebrations in safety thanks to the large spaces of the Park, controls and anti Covid procedures: the biggest party in the Capital!
Choose from 8 different types of themed dinner: Roma Restaurant, Saloon, the great Dinner Show in Theatre 1, Charleston Club, Dinner under the stars. Choose the one that's right for you or buy your dinner directly here.
Over 40 artists and Djs. Main DJ Sets: Live and Animations (Cinecittà Street), Commercial (Teatro 1), Revival 2000 (Piazza dell Fontane), Hip-hop Reggaeton/ Baila Latino (Teatro 4), Techno (Spazio Eventi).
Great midnight toast with the fireworks show.
Concerts and special events: Luchè (rapper and producer, former member of the hip hop group Co'Sang), Geolier (Neapolitan rapper), Ludwig (rapper, DJ and Roman artist), Lele Blade (rapper and member of the trio Le Scimmie), Antonio Sorgentone (pianist, winner of Italia's Got Talent 2019) and then DJ Set by DJ Kups, Boxia and many other artists to be announced shortly. Buy special tickets here.
You don't need the Super Green Pass to access the Amusement Park: just the normal Green Pass or the negative result of the buffer (free at Cinecittà World).
Discover the Park's New Year's Map or download it here.
... are you ready for a New Year's Eve at Cinecittà World?
FAQ
100% REFUND GUARANTEE: If the current regulations prevent the opening of the Park, the Tickets and Dinners will be refunded or replaced with tickets of equal value, at the customer's discretion.
ACCESS TO THE PARK: Entrance to Cinecittà World takes place upon presentation of a simple Green Pass (you do not need the Super Green Pass in the white and / or yellow area) or by means of a free pad offered by the Park at the entrance until 02.00 am.
DINNERS: Dinners include the entrance to the park and the indicated menu. Some dinners also include a midnight toast. Show up 15 minutes before the chosen turn: tables will be assigned according to the order of arrival. At Theater 1 and Theater 4 there will be round convivial tables for 8/10 people. By purchasing dinner you agree to sit next to other people until the table is full. For celiacs it is possible to transform the menu by purchasing the "Gluten Free Supplement" product together with the dinner at € 15.
IF YOU WANT TO STAY: Buy the Park + Hotel Package in our partner hotels. Access to the park and dinners are NOT included in the hotel package, as this is an extraordinary opening. The ticket included in the Park + Hotel Package can be used at your discretion until January 9th.
IF YOU COME BY CAR: Buy your discounted parking here, after selecting the type of Ticket.
IF YOU DON'T WANT TO DRIVE: The park offers a shuttle service to / from Rome from 17:30 to 6:30 in the morning with departure and arrival from Metro B EUR Palasport.
CHILDREN: The rates indicated apply from 1 meter upwards. For children under 1 meter only the entrance to the park and the Park + Hotel packages are free. Using a restaurant seat requires the purchase of a dinner. Exceptions are children in the stroller or high chairs of the Park until exhaustion.
ATTRACTIONS: Attractions are open and guaranteed until 02 AM.
WARDROBE: A guarded cloakroom service is available in the park at Theater 1 and at Cinecittà Street.
NOTES: On New Year's Day it is not possible to go out and re-enter the Park with the same ticket and no free tickets will be provided for the disabled.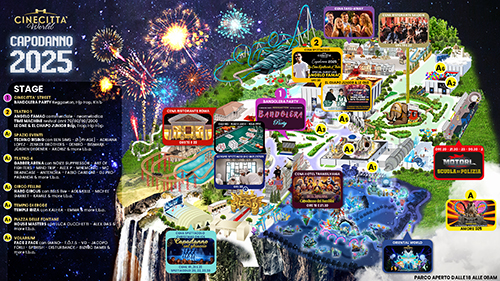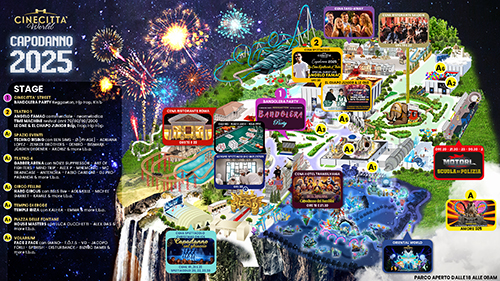 INFORMAZIONI UTILI
CENE E CENONI: Le cene includono l'ingresso al Parco ed il menù indicato. I Cenoni includono anche il brindisi di mezzanotte. Presentati min. 30 min prima del turno prescelto: l'assegnazione dei tavoli avverrà in base all'ordine di arrivo. In diverse cene sono previsti tavoli conviviali. Acquistando la cena accetti di sederti a fianco di altre persone fino al riempimento del tavolo stesso. Per i celiaci è possibile trasformare il menù, acquistando unitamente alla cena, il prodotto "Supplemento Gluten Free" al costo €15.
SE DESIDERI PERNOTTARE: Acquista il Pacchetto Hotel Capodanno nei nostri alberghi convenzionati. L'accesso al parco e le cene NON sono incluse nel pacchetto hotel ma è necessario acquistare un titolo di ingresso o un pacchetto Parco + Cena .
SE VIENI IN AUTO: Acquista il tuo parcheggio qui, dopo aver selezionato il tipo di Biglietto. Il parcheggio sarà aperto sino ad esaurimento posti.
SE NON VUOI GUIDARE: Il parco mette a disposizione un servizio navetta da/per Roma dalle 17 alle 6 di mattina con partenza e arrivo da Termini e Metro B EUR Palasport.
BAMBINI: Le tariffe indicate si applicano da 1 metro in su. Per bambini inferiori a 1 metro il solo Ingresso al parco e i pacchetti Parco + Hotel sono gratis. L'utilizzo di un posto al ristorante richiede l'acquisto di una cena. Fanno eccezione bambini sul passeggino o su seggioloni del Parco fino ad esaurimento.
ATTRAZIONI: Le attrazioni sono aperte e garantite fino alle 02 AM. Proseguiranno fino alle 06 in base alla presenza del pubblico.
GUARDAROBA: Nel Parco è disponibile un servizio Guardaroba custodito.
NOTE: non è possibile uscire e rientrare nel Parco con lo stesso biglietto, (per rientrare sarà necessario l'acquisto di un nuovo biglietto). Non saranno erogate gratuità per i disabili e di alcun altro tipo.